Castelsardo, a picturesque medieval village perched on the Gulf of Asinara.
A picturesque medieval village perched over the Gulf of Asinara: its Castello Doria (Museum of the Mediterranean weaving), Cathedral, narrow streets, splendid coasts with the unique Elephant Rock.
The village is perched on a trachytic promontory over the Gulf of Asinara; 32 km N-W of Sassari and about 35 km from Porto Torres.
In addition to the old Cittadella (or Casteddu) district, and the modern one Pianedda, we find a settlement on the coast, Marina, with new accommodation facilities.
Thanks to its central position on the gulf, short distances separate Castelsardo from Stintino (60 Km.), Alghero (70 Km.), Santa Teresa di Gallura (70 Km.), Palau (85 Km.). Finally, the Costa Smeralda is about an hour's drive away.
Castelsardo origins:
This area was the site of important prehistoric Neolithic settlements (Domus de Janas of the Elephant), Scala Coperta and Rocca Bianca, of the Copper Age (village of Monte Ossoni), and of the Bronze Age.
Some scholars locate here the Roman centre Tibula.
The rest of the fortress history is testified by the changes in its name: founded as Castel Genovese by the Dorias in the 12th-13th century, it passed to the Kingdom of Aragon in 1448 as Castel Aragonese, and then became the domain of the Savoy in 1769 as Castel Sardo.
Until 1848, as a royal city, it sent its representatives to parliament.
Historical traces:
Evidence of prehistory are the domus de janas in the Elephant Rock (in one of the cells there is the carved bull horn symbol) and the Spighìa and Paddaggiu nuraghi.
The old centre (Casteddu) preserves all the buildings of the past practically intact: the churches with important works of art (S. Antonio Abate of the sixteenth century, S. Maria of medieval times), the Castello dei Doria, which houses the Museum of the Mediterranean weaving, the narrow streets.
The port is dominated by the Torre di Frigiano (Spanish tower built to defend against the Saracens).
Castelsardo also houses the oldest sacred representation of the Passion of Christ, the Lunissanti, which carries the Black Christ in procession
Beaches:
This stretch of coast, which closes the Gulf of Asinara to the east, is quite steep and poor in beaches.
The town beach (the marina) is at the entrance to Castelsardo, immediately after the port.
The hamlet of Lu Bagnu, 3 km from the town, offers wide sandy beaches and is the most popular area.
To the east of the town, immediately under the rocky wall, there are two coves: La Vignaccia, sandy, and La Pedra Ladda.
The beaches of Portu di La Rena and Li Cantareddi are also nearby
Photo Credits by trolvag, original photo click to link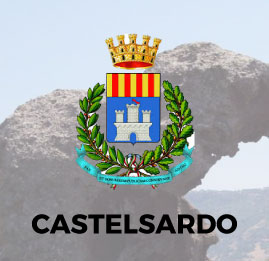 In this area you will be directed to the website of the Municipality of Castelsardo to get all the information.
Click to Access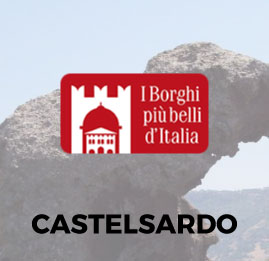 In this area you will be directed to the site of the most beautiful villages in Italy for all the information.
Click to Access