Trinità d'Agultu e Vignola, beautiful sandy coves surrounded by pink rocks.
An immersion in beautiful sandy coves surrounded by pink rocks.
A place where you discover culture, devotion and typical food and wine specialties of a village in Gallura.
Trinità d'Agultu e Vignola is a tourist centre of Gallura, bordering the territory of Anglona, in the central-northern area of Sardinia. It is an attraction all year round with sea, nature, traditions, cuisine and outdoor activities.
Together with a long, charming area of coastline with soft, white beaches you find a beautiful hinterland, with the flora and fauna reserve of "Zincu Denti" forest.
The two residential areas of Trinità d' Agultu and Vignola form a single Municipality with two thousand inhabitants in north-western Gallura.
The most ancient traces of human presence in the territory are date back to the Mesolithic period, under the rocks at Porto Leccio. Conca di Li Fati, a cave dug into the granite rock, is a very rare case of a Domus de Janas in Gallura, and dates back to the Neolithic period.
The most important find of the Bronze Age is the Nuraghe Bastianazzu, west of Isola Rossa: a granite rock building built to control the coast.
Founded in the second part of the nineteenth century by families from nearby residential areas and from the rural stazzi, Trinità d'Agultu, the 'capital', towers over the shoreline from an 350 m height.
The surrounding vineyards produce an excellent Vermentino wine, ideal for fish dishes. From the hinterland a typical dish: zuppa gallurese (Gallura soup), a dish with bread, Pecorino cheese and sheep meat broth.
Vignola includes the hamlet Lu Colbu and the sea area along Costa Paradiso, a granite landscape covered with Mediterranean scrub, punctuated with little coves bathed with sea water ranging from green to blue colours.
Li Cossi is a masterpiece of nature: fine, golden sand set amidst the pink rocks.
Among the several beautiful places you find Cala Sarraina, which has always been a natural marina, the little coves of Porto Leccio and the romantic bay Li Tinnari, shaped like a double arch, made of crumbled shells, grains of granite and round pebbles.
Isola Rossa is a seaside village six kilometres from Trinità that got its name from the colour of the small island in front of it.
Its modern marina is dominated by a Spanish tower that dates back to the end of the 16th century. It is an ideal place for snorkelling and diving.
All around there are countless little coves: La Marinedda, one of the most beautiful beaches in northern Sardinia, will strike you with the contrast between the blue sea, the white sand, the red rocks and the green vegetation.
Cala Rossa, with its light sand, pink rock and transparent sea, Cala Canneddi, with its combination of multi-coloured little stones and the secluded Li Feruli, with its cream-coloured sand are some other breathtaking inlets.
Vignola Beach
Along the northern coast of Gallura is Vignola Mare, with the beautiful Vignola Beach.
In a wild and lonely territory we meet often little known enchanting beaches, and striking granite formations with strange and original shapes.
The long beach east of Punta di Li Francesi is divided into: beach Rena Bedda, the wider one, and beach La Turra, which is near the Aragonese Tower on the promontory closing the Vignola bay.
Small and rounded polychromatic pebbles characterize the shoreline, a strip of fine sand tending to gray bordered by deep and transparent waters with an extraordinary blue-green colour.
Never too crowded, it is generally very clean. The surrounding nature is lonely and wild.
The splendid seabed has a great variety of fish flora and fauna and is therefore highly appreciated by those who practice scuba diving and snorkeling, as well as by fishing enthusiasts.
When the wind is favourable, the beach is also popular with windsurfers, kite-surfers and sailors.
Services: disabled access, large parking, umbrellas and deck chairs rental, pedal boat and boat rental, diving center, area for campers, campsites, bars, hotels, restaurants and all the local services.
Other beaches nearby: Chischinagghju, particularly loved by surfers, and Riu di Li Saldi.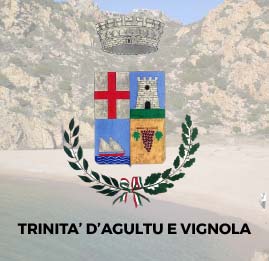 In this area you will be directed to the website of the Municipality of Trinità d'Agultu and Vignola to get all the information about this location.
Click to Access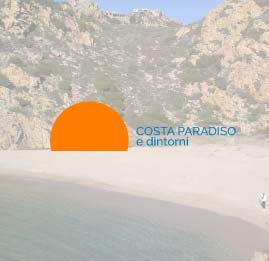 In this area you will be directed to the website of Costa Paradiso for all the information.
Click to Access