Selargius: great center and centuries-old traditions
Selargius ("Ceraxius", in Sardinian language, lat. "Cellarium") is a large centre characterized by centuries-old buildings and traditions, located in the southernmost part of Campidano, in the extreme south of Sardinia.
With almost thirty thousand inhabitants, Selargius is the eighth most populous town in Sardinia and is part of the metropolitan area of Cagliari, conurbated with the capital.
The agricultural tradition of the town is still preserved in its renowned agri-food products: wine, in particular Monica and Nasco, artisan bread and pasta, typical sweets made with almonds and cheese (amaretti, "gueffus, pistoccus, pardulas") and the famous Selargius capers.
Populated since the pre-Nuragic era, as evidenced by the Aeneolithic village "Su Coddu", this area housed two villages in Roman times: "Cellarium" (lat. agricultural deposit) and "Palmas", which disappeared in the 14th century.
Part of the Giudicato of Cagliari until 1258, Selargius then passed to the Pisans and experienced the various historical phases that led it in 1928 to be aggregated to the municipality of Cagliari, from which it separated in 1947.
The old centre
Tradition and historical memory are also preserved in the old centre of the town, made of Campidanese houses in "ladiri" (raw earth bricks), with large portals, courtyards and loggias ("lollas"), particularly beautiful and well preserved in Via Roma, where the seventeenth-century prison of the Marquises of Quirra is also located.
In a building in via Rosselli, the traces are still visible of the moat built by Mariano IV d'Arborea, to create a fortified field that blocked supplies to Cagliari, at the time of the conflict between the Giudicato of Arborea and the Crown of Aragon, in 1366.
Among the religious buildings the oldest ones are the small church of S. Lussorio (Romanesque from the 13th century) and that of S. Giuliano (12th century). Next to the spectacular red brick chimney tower of the former "Si 'e Boi" distillery, now a cultural park, stands the current parish church of the Blessed Virgin of the Assumption, from the 15th century, remodeled in the 17th.
On the second Sunday of September, churches and old centre are the setting for the Ancient Selargino Marriage ("sa coja antiga"): according to an ancient rite, a wedding procession of groups in traditional clothes from all over the island and "launeddas" players accompany the spouses linked with "sa cadena".
Nature and archeology
Itineraries on foot or by bike to discover the Molentargius-Saline park, one of the most beautiful natural oases on the island, habitat of pink flamingos.
The prehistoric origins of the town in the areas of "Su Coddu" and "Staineddu" and in the hill of "Cuccuru Matt'e Masonis", where Neolithic finds have emerged. The Nuragic era in the area of the sacred well of Santa Rosa.
Photo Credits by Gianni Careddu, link photo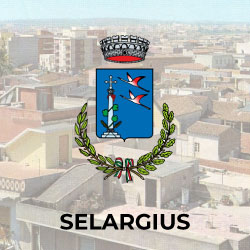 In this area you will be directed to the site of the municipality of Selargius to get all the information on this location.
Click to Login